3 years ago
Home Cooking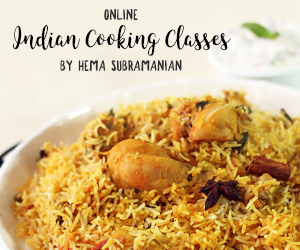 3 years ago
|
Home Cooking
DESCRIPTION
Are you craving for some spicy biryani? But all you have in your kitchen is a bag of potatoes, don't worry, we got you covered! Here's a delicious and easy recipe for Aloo Dum Biryani.
Prep time: 10 minutes
Cook time: 40 minutes
Number of Servings: 2-3 persons
Ingredients
For Paste:
Ginger - 1 piece
Garlic - 2 cloves
Green Chili - 2 nos
Red Chili - 2 nos
Curd - 1 tbsp
Mint Leaves
Coriander Leaves
For Cooking Biryani:
Basmati Rice - 200 ml
Baby Potatoes - 200 gms
Ghee
Oil
Onion - 2 nos
Tomato - 3 nos
Turmeric Powder - 1/4 tsp
Star Anise
Cardamom
Cinnamon
Clove
Bay Leaf
Saffron in Milk
Salt
Method
1. Rinse and soak the rice for 30 minutes.
2. Add oil to a pan and let it heat up. Add the finely sliced onions to the pan and saute it until they are brown. Set them aside.
3. In the same pan, add some oil and roast the baby potatoes till they are golden brown in color. Add turmeric powder and salt and saute them for a few seconds and set them aside.
4. Now, take a deep pot and boil some water in it. Add the soaked basmati rice to it.
5. Add the whole spices such as bay leaf, cloves, cardamom, cinnamon, star anise to the boiling water to add flavour to the rice and add some salt.
6. Cook the rice till it is 90% cooked and strain the rice and keep it aside.
7. Meanwhile, soak a few strands of saffron in warm milk.
8. To the make, the masala paste, add ginger, garlic, green chili, red chili, coriander leaves, mint leaves, and curd.
9. Grind this to a fine paste.
10. Take a large pan and add ghee to it and add the whole spices such as cinnamon, cardamom, cloves, and bay leaf.
11. Roast the spices in hot ghee for about 2 minutes.
12. Add the finely chopped tomatoes to the spices and saute it for about a minute.
13. Add the ground masala paste to the tomatoes and add salt and cook it till the raw smell disappears.
14. Add the roasted golden brown potatoes to the masala and saute it for about 2 minutes
15. Add half of the fried onions to the masala and mix it evenly.
16. Now layer the cooked rice on top of the potato masala and add the saffron milk and fried onions and cook it closed for about 7 minutes.
17. Aloo Dum Biryani is ready, serve with raita.
Notes
I have used baby potatoes in this recipe but you can also use large potatoes just make sure you cut them into bite-sized pieces.
WEBSITE:
http://www.21frames.in/homecooking
FACEBOOK -
https://www.facebook.com/HomeCookingShow
YOUTUBE:
https://www.youtube.com/user/VentunoHomeCooking
INSTAGRAM -
https://www.instagram.com/homecookingshow
A Ventuno Production :
http://www.ventunotech.com