7 years ago
Home Cooking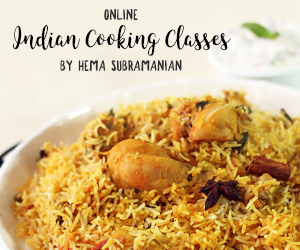 Andhra Style Raw Mango Pachadi
7 years ago
|
Home Cooking
DESCRIPTION
Andhra Style Raw Mango Pachadi
Ingredients
Raw Mango - 1 grated
Coconut - 1 cup grated
Garlic - 3 to 4 cloves
Green chilli - 3
Urad dal - 2 tsp
Cumin seeds - 1 tbsp
For Tempering
Oil - 1 tsp
Mustard seeds - 1/4 tsp
Urad dal - 1/4 tsp
Cumin seeds - 1/4 tsp
Red chilli - 2
Asafoetida powder a pinch
A few Curry leaves
Raw Mango Rice Recipe:
https://goo.gl/uBWNb9
Raw Mango Chicken Tikka Recipe:
https://goo.gl/341qB9
Method:
1. In a wide a pan add a tsp of oil, Roast the green chilli for about a minute.
2. In the same pan, now roast the urad dal till it turns slightly brown.
3. In a mixer jar add coconut, grated raw mango, garlic, cumin, roasted green chilli, roasted urad dal, salt & grind it into a coarse paste. If needed add little water while grinding.
4. Next tempering for that heat oil in a pan add mustard seeds, urad dal, cumin seeds, red chilli, asafoetida powder, finally turn off the stove and add curry leaves.
5. Pour the temper ingredients over the pachadi.
6. Andhra Style Raw Mango Pachadi is ready, you can serve it with hot steaming rice.
Like us on FACEBOOK -
https://www.facebook.com/HomeCookingShow
Follow us on TWITTER -
https://twitter.com/VentunoCooking
Subscribe to YouTube -
http://www.youtube.com/user/VentunoHomeCooking
A Ventuno Production :
http://www.ventunotech.com