3 years ago
Home Cooking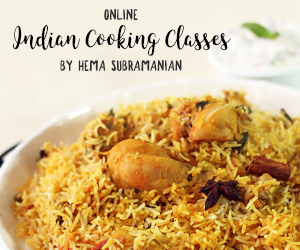 Ash Gourd Curry (Poosanikai Kootu) Winter Melon Curry
3 years ago
|
Home Cooking
DESCRIPTION
Ingredients
Poosanikai/Ash Gourd
Oil - 2 Tbsp
Mustard seed - 1/4 tsp
Urad dal - 1/4 tsp
Cumin seeds - 1/4 tsp
Red chili - 1 no.
Onion - 2 nos thinly sliced
Green chili - 1 no.
Few Curry leaves
Turmeric powder - 1/4 tsp
Chili powder - 1 tsp
Salt to taste
Pound (Ginger and Garlic)
Moong Dal - 1/4 cup (soaked 1 hour)
Asafoetida powder - 1/2 tsp
Water - 2 cups
Coriander powder - 1/4 tsp
Chopped Coriander leaves
Method:
1. Soak the moong dal for 1 hour.
2. Cut poosanikai/ash gourd into cubes (remove seeds).
3. Heat oil in a kadai. Add ingredients for tempering add mustard seeds, urad dal, cumin seeds and red chili.
4. Once mustard seeds starts splattering add onions, green chili and curry leaves.
5. Saute till onion turns brown color.
6. Now add turmeric powder, chili powder, salt and mix well.
7. Add the pounded ginger, garlic and mix well.
8. Then add the soaked moong dal, water and cook till the poosanikai/ash gourd is cooked.
9. Finally add coriander powder for flavoring and garnish it with chopped coriander leaves.
10. Ash Gourd Curry (Poosanikai Kootu) is ready serve hot with rice.
FACEBOOK -
https://www.facebook.com/HomeCookingShow
YOUTUBE:
https://www.youtube.com/ventunohomecooking
INSTAGRAM -
https://www.instagram.com/homecookingshow
TWITTER -
https://twitter.com/VentunoCooking
A Ventuno Production :
http://www.ventunotech.com