5 years ago
Home Cooking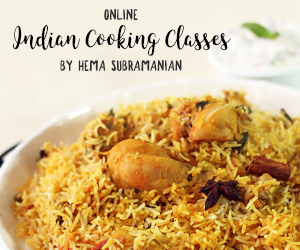 5 years ago
|
Home Cooking
DESCRIPTION
Ingredients
Large Aubergine - 1 no
Oil - 1 tbsp
Large Onion - 1 no
Green Chilies - 2 no
Garlic
Ginger
Medium Sized Tomatoes - 2 no
Turmeric Powder - 1 tsp
Chili Powder - 1 tsp
Cumin Powder - 1/2 tsp
Garam Masala - 1/4 tsp
Salt - 1 tsp
Few Coriander Leaves
Brinjal Dip recipe:
https://goo.gl/7Yb7Bg
Vankaya Gujju Kura (Brinjal/Eggplant Curry) recipe:
https://goo.gl/Wfo8KU
Method:
1. Place the aubergine (Baingan) on the stove and grill it on medium-high flame. Grill for 10-15 minutes till the aubergine is completely cooked.
2. Remove the aubergine from the stove and place it in a bowl of water for a minute or two.
3. Remove the skin of the aubergine.
(Tip: Select a light colored aubergine for this recipe)
4. Chop the flesh of the aubergine.
5. Take a wide saucepan and pour 1 tbsp of oil.
6. To this add 1 large finely chopped onion and 2 finely chopped green chilies.
7. Once the onions turn brown, add 1 tsp of chopped garlic, 1 tsp of finely chopped ginger and 2 finely chopped medium sized tomatoes.
8. Season it with turmeric powder, 1 tsp of chili powder, 1/2 tsp cumin powder, 1/4 tsp garam masala and 1 tsp of salt and stir.
9. Once the tomatoes are cooked, add the chopped aubergine and mix well.
10. Garnish it with fresh coriander leaves.
11. Baingan Bharta is ready. Can be served with chapati, roti, naan, bread or as a dip.
HAPPY COOKING WITH HOMECOOKING
ENJOY OUR RECIPES
WEBSITE:
http://www.21frames.in/homecooking
FACEBOOK -
https://www.facebook.com/HomeCookingShow
YOUTUBE:
https://www.youtube.com/user/VentunoHomeCooking
INSTAGRAM -
https://www.instagram.com/homecookingshow
A Ventuno Production :
http://www.ventunotech.com