4 years ago
Home Cooking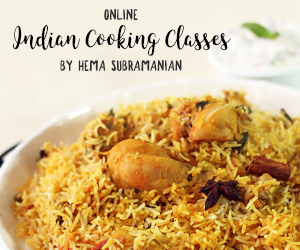 Beans Poriyal (Beans Stir Fry)
4 years ago
|
Home Cooking
DESCRIPTION
Beans Stir fry, commonly known in the south as beans poriyal, is one of the most easy, but most healthy dishes to make.
A perfect side for any dish or delicacy, Mrs. Hema Subramanian shows you an easy recipe to master this dish.
Ingredients:
Beans - 250 gms
Oil - 2 tsp
Chana dal - 1/2 tsp
Urad dal - 1/2 tsp
Mustard seeds - 1/2 tsp
Red chilis - 2 nos
Asafoetida powder - 1/4 tsp
Onions
Green chilis - 3 nos (slit)
Few curry leaves
Turmeric powder - a pinch
Salt
Fresh grated coconut
Method
Heat oil in a wide pan. Add chana dal, urad dal, mustard seeds, red chilis, asafoetida powder, onions, green chilis, curry leaves and turmeric powder to the pan once the oil is heated nicely.
Sauté till onions turn transparent. Now add the beans to the mixture. Mix well and sprinkle a tablespoon of water over it.
Cover it with a lid so that no air passes out and let it cook for 2 minutes.
Now, remove the lid and add the required quantity of salt and mix well.
Again, sprinkle a tablespoon of water and cover it with the lid. Let it cook till done.
Once cooked, turn off the stove and sprinkle the grated coconut evenly over the dish.
Your dish is ready to be devoured.
Enjoy with your family & friends. HAPPY COOKING with HOMECOOKING
Visit our website –
http://www.21frames.in/homecooking
Follow us on Facebook –
https://www.facebook.com/HomeCookingShow
Follow us on Instagram –
https://www.instagram.com/homecookingshow/
Follow us on Twitter –
https://twitter.com/VentunoCooking
Subscribe to us on YouTube –
https://www.youtube.com/user/VentunoHomeCooking
A Ventuno Production –
http://www.ventunotech.com