4 years ago
Home Cooking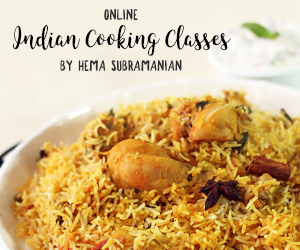 4 years ago
|
Home Cooking
DESCRIPTION
Bitter Gourd Curry
Bittergourd is one of the healthiest vegetables. It is great for improving the immune system, and it also aids in digestion. It is great for people with diabetes. I have prepared a tasty and curry that incorporates this wonderful vegetable.
Prep time: 15 minutes
Cook time: 30 minutes
Number of Servings: 4 persons
Ingredients
Bitter Gourd - 200 gms
Oil - 1 Tbsp
Mustard seeds - 1/2 Tsp
Chana Dal - 1/2 Tsp
Urad Dal - 1/2 Tsp
Cumin seeds - 1/2 Tsp
Fenugreek - 1/4 Tsp
Red chili - 3 nos
Onion - 1 no. chopped
Green chili - 2 nos
Garlic
Tomato - 1 no. chopped
Turmeric powder - 1 & 1/4 Tsp
Chili powder - 2 Tsp
Coriander powder - 2 Tsp
Tamarind puree - 1 cup
Powdered Jaggery - 2 Tsp
Curry leaves
Salt to taste
Water
Millet Dosa recipe:
https://goo.gl/Jvva64
Bittergourd Chips recipe:
https://goo.gl/fWkwZg
You can buy our book and classes on
http://www.21frames.in/shop
Method
1. Firstly, add salt and turmeric powder to the bitter gourd and add a little water and mix it well.
2. Let it sit for 15 minutes.
3. Heat a pan with some oil, add mustard seeds, chana dal, urad dal, cumin seeds, fenugreek seeds and red chilies.
4. After the mustard seeds crackle, add chopped onions, green chilis, garlic and saute them.
5. Add tomatoes, chili powder, turmeric powder, coriander powder, and salt and add the bitter gourd.
6. Close and cook the vegetable for about 10 minutes.
7. Add tamarind puree and water and let it cook for another 10 minutes.
8. After the curry is cooked, add powdered jaggery and cook it for about 2 minutes.
9. Finally, garnish it with curry leaves and serve it hot with steamed rice and papad.
HAPPY COOKING WITH HOMECOOKING
ENJOY OUR RECIPES
WEBSITE:
http://www.21frames.in/homecooking
FACEBOOK -
https://www.facebook.com/HomeCookingShow
YOUTUBE:
https://www.youtube.com/user/VentunoHomeCooking
INSTAGRAM -
https://www.instagram.com/homecookingshow
A Ventuno Production :
http://www.ventunotech.com