5 years ago
Home Cooking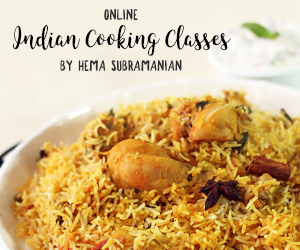 Chettinad Muttai Kuzhambu
5 years ago
|
Home Cooking
DESCRIPTION
Chettinad Muttai Kuzhambu
Ingredients
Egg - 6 nos
Gingelly oil/Sesame oil - 2 Tbsp
Bay leaf
Cardamom
Clove
Cinnamon
Onion - 2 nos finely chopped
Green chili - 2 nos
Few Curry leaves
Tomato - 2 nos chopped
Turmeric powder - 1/2 tsp
Chili powder - 1 tsp
Coriander powder - 2 tsp
Salt to taste
Water
For Masala Paste
Oil - 1 tsp
Fennel seeds - 1 tsp
Poppy seeds/Khus khus - 1/2 tsp
Roasted Chana Dal - 1 Tbsp
Red chili - 8 nos
Grated Coconut - 1/2 cup
Piece of Ginger
Garlic - 4 to 5 cloves
Method:
For Dry roast:
1. Heat pan, add oil, fennel seeds, poppy seeds (Khus Khus), roasted chana dal, red chili, grated coconut, ginger, garlic and roast it for few minutes. Add little water and grind the mixture in to a fine paste, after it comes to a room temperature.
2. Heat a pan, add gingely oil, bay leaf, cardamom, cloves, cinnamon, onion, green chili and saute it well.
3. Once the onion turns brown add tomato, curry leaves, turmeric powder, chili powder, coriander powder and salt. Saute till tomato mashed up.
4. Add the ground masala paste.
5. Add water to the masala and close the lid. Let it simmer till the raw smell goes off.
6. Crack the egg and drop in to the curry. Close the lid and let it cook for 15 minutes on medium low flame.
7. Garnish it with chopped coriander leaves.
Delicious egg drop curry is ready to serve!
Visit our website –
http://www.21frames.in/homecooking
Follow us on Facebook –
https://www.facebook.com/HomeCookingShow
Follow us on Instagram –
https://www.instagram.com/homecookingshow/
Follow us on Twitter –
https://twitter.com/VentunoCooking
Subscribe to us on YouTube –
https://www.youtube.com/user/VentunoHomeCooking
A Ventuno Production –
http://www.ventunotech.com