1 year ago
Home Cooking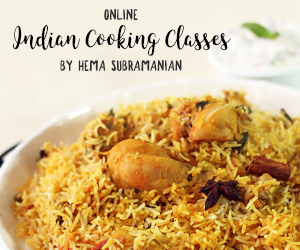 1 year ago
|
Home Cooking
DESCRIPTION
Chicken Stuffed Mirchi Bajji
Ingredients:
For Cooking the Chicken
Chicken - 200 gms
Ginger garlic paste - 1 tsp
Turmeric powder - 1/4 tsp
Chili powder - 1 tsp
Salt to taste
Pepper powder - 1/4 tsp
Water
For Chicken Filling
Oil - 1 Tbsp
Onion - 1 no. chopped
Green chili - 1 no. chopped
Chopped Ginger
Chopped Garlic
Tomato - 2 no. chopped
Chili powder - 1/2 tsp
Coriander powder - 1 tsp
Cumin powder - 1 tsp
Garam Masala powder - 1/2 tsp
Salt to taste
Chopped Coriander leaves
For Batter
Besan/Gram flour - 2 cups
Salt to taste
Chili powder - 1 tsp
Ajwain - 1/2 tsp (optional)
Water
Oil for frying
Method:
1. Take a pressure cooker and add the chicken pieces and little water.
2. Add 1 tsp ginger garlic paste, 1/4 tsp turmeric powder, 1 tsp chili powder, 1 tsp of salt and 1/4 tsp pepper powder.
3. Pressure cook till the chicken is completely cooked.
4. Transfer the chicken pieces from the cooker to a plate and wait for it to cool down.
5. Shred the chicken pieces and discard the bones.
6. Take a wide sauce pan,add 1 tbsp of oil, 1 large chopped onion,1 finely chopped green chili, 1 finely chopped ginger and few finely chopped cloves of garlic.
7. Once the onion turns brown, add 2 medium sized tomatoes chopped, 1/2 tsp chili powder,1 tsp coriander powder, 1 tsp cumin powder, 1/2 tsp garam masala powder and salt to taste. Mix it well.
8. Add the shredded chicken.Pour the stock which remains after boiling the chicken and mix well.
9. Garnish it with chopped coriander leaves.
10. Turn off the stove and let it cool down for a few minutes.
Deseeding the chili
Slit the green chili/mirchi in the middle and stop little before the end of the chili.
Deseed the chili. If you like it spicy, you needn't deseed.
Batter for the bajjis
1. Take a bowl, add 2 cups of besan/gram flour, 1 tsp salt, 1 tsp chili powder, 1/2 tsp ajwain(optional).
2. Gradually add water and mix it.
3. Make sure the batter is not too runny. It should be of thick consistency.
1. Stuff the chicken filling in the chili/mirchi.
2. Dip the stuffed chili/mirchi in the batter. Make sure the chili is completely coated.
3. Deep fry in hot oil, till it turns golden brown color.
Spicy Chicken Stuffed Mirchi Bajji is ready.
Visit our website –
http://www.21frames.in/homecooking
Follow us on Facebook –
https://www.facebook.com/HomeCookingShow
Follow us on Instagram –
https://www.instagram.com/homecookingshow/
Follow us on Twitter –
https://twitter.com/VentunoCooking
Subscribe to us on YouTube –
https://www.youtube.com/user/VentunoHomeCooking
A Ventuno Production –
http://www.ventunotech.com