5 years ago
Home Cooking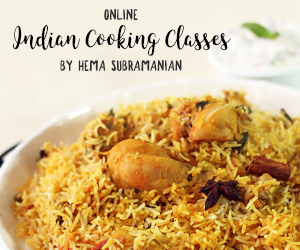 5 years ago
|
Home Cooking
DESCRIPTION
Double Bean Curry
Double Beans or Lima Beans are high in protein, iron, dietary fiber and other nutrients. They are great for vegetarians and vegans who are looking for low fat, protein-rich food. Today am going to prepare a flavorful curry using double beans.
Preparation time: 10 minutes
Cook time: 20 minutes
Number of Servings: 4 persons
Watch Methi Thepla (Methi Chapati) recipe:
https://goo.gl/mogiPf
Watch more vegetarian gravies:
https://goo.gl/zpRKAf
You can buy our newly dropped merch and classes on
http://www.21frames.in/shop
Ingredients:
To pressure cook
Double Bean - 150 grams
Water
To make Masala paste
Poppy seeds/Khus khus - 1/2 Tsp
Fennel seeds/Saunf - 1/2 Tsp
Soaked Badam/Almond (Remove skin)
Few Cashew nuts/Kaju
Grated Coconut - 3 Tsp
Little Water
To make curry
Oil - 2 Tsp
Cinnamon
Clove
Cardamom
Onion - 2 no.s chopped
Green chilli - 2 no.s slit
Ginger garlic paste - 1/2 Tsp
Tomato - 3 no.s chopped
Salt to taste
Turmeric powder - 1/2 Tsp
Chilli powder - 2 Tsp
Water
Chopped Coriander leaves
Method
1. I am using fresh double beans for this recipe, but you can also use dried double beans. If you are using dried double beans, be sure to soak the double beans overnight.
2. Add enough water so that the double beans are covered, now pressure cook the beans for about 2 whistles. Keep this aside. I am not draining the excess water but instead, am saving it to cook the curry.
3. Add some oil to a pan and heat it up. After the oil is hot enough, add the cinnamon, cloves, cardamom, finely chopped onions and sauté it until the onion turn transparent.
4. Once the onions are transparent, add the slit green chilies and sauté them until the onion turns golden brown.
5. Now add the ginger-garlic paste and the finely chopped tomatoes and give it a stir.
6. Add the salt, turmeric powder and chili powder to the pan and cook until the tomatoes become soft and the raw smell disappears.
7. Now add the cooked double beans along with the stalk to the base gravy. Add a little water and close the pan with a lid and cook it for about 5 minutes.
8. While the gravy boils, in a mixer jar, add poppy seeds, fennel seeds, soaked almonds, cashew nuts and freshly grated coconut and a little water and grind them to a fine paste.
9. After 5 minutes, add the ground masala paste to the gravy and mix well.
10. Add a little more water, close the lid, and let it simmer for 10 minutes.
11. After 10 minutes, open the lid, give it a stir and garnish it with freshly chopped coriander leaves.
12. Double bean curry is ready to be served. It tastes best when served hot with any Indian breads, pulao or jeera rice.
Notes
You can add a few spoons of fresh cream on top of the gravy if you wish to.
HAPPY COOKING WITH HOMECOOKING
ENJOY OUR RECIPES
WEBSITE:
http://www.21frames.in/homecooking
YOUTUBE:
https://www.youtube.com/user/VentunoHomeCooking
INSTAGRAM -
https://www.instagram.com/homecookingshow
A Ventuno Production:
http://www.ventunotech.com