6 years ago
Home Cooking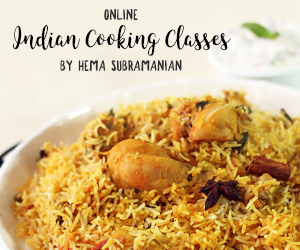 Easy & Quick Rasam using rasam powder
6 years ago
|
Home Cooking
DESCRIPTION
EASY & QUICK RASAM USING RASAM POWDER
Rasam, chaaru, saaru or kabir is a South Indian soup, traditionally prepared using tamarind juice as a base, with the addition of tomato, chilli pepper, pepper, cumin and other spices as seasonings. This is a dish that is commonly prepared in every household. This is a dish that can be consumed by kids, teens and old people alike. However, preparing Rasam can be a tiring and long process, in the absence of Rasam Powder. Hence, using this recipe, prepare rasam using Rasam Powder by following a few simple steps written below.
Ingredients
Rasam powder - 2 to 3 Tsp.
Tomato - 3 no.'s
Ginger & garlic (Roughly pounded)
Salt to taste
Water - 3 to 4 cups
Tamarind puree - 2 Tsp.
Few Coriander leaves
Oil - 1 Tbsp
Mustard seeds - 1/4 Tsp.
Urad Dal - 1/4 Tsp.
Cumin seeds - 1/4 Tsp.
Red chilli - 2 no.'s
Few Curry leaves
Method:
1. Take a saucepan and add mustard seeds, urad dal, cumin seeds, red chilly, pounded ginger garlic paste, curry leaves, tomatoes, salt, rasam powder to it. Saute well.
2. After two minutes, add some water. Let it boil for 10 to 15 minutes.
3. Add tamarind puree and let it boil for another 5 minutes.
4. Garnish it with coriander leaves.
5. Rasam is ready to serve! Serve hot with some steaming hot rice!
Visit our website –
http://www.21frames.in/homecooking
Follow us on Facebook –
https://www.facebook.com/HomeCookingShow
Follow us on Instagram –
https://www.instagram.com/homecookingshow/
Follow us on Twitter –
https://twitter.com/VentunoCooking
Subscribe to us on YouTube –
https://www.youtube.com/user/VentunoHomeCooking
A Ventuno Production :
http://www.ventunotech.com