5 years ago
Home Cooking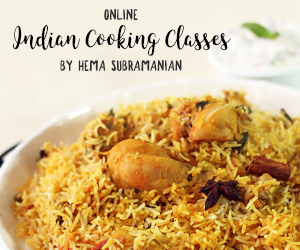 5 years ago
|
Home Cooking
DESCRIPTION
Ingredients
Oil
Egg
Chicken gravy - 4 Tsp
For Appam Batter
Raw Rice - 1 cup
Beaten/Flattened Rice - 1/2 cup
Coconut Paste - 2 Tsp
Water
Salt
Pinch of Baking / Cooking soda (optional)
Idiyappam recipe:
https://goo.gl/Q9iPNu
Quick Rava Idli recipe:
https://goo.gl/iARZ5x
Prep time: 4 hours
Cook time: 15 minutes
Method
1. Soak 1 cup of Raw Rice for 4 hours.
2. Soak 1/2 cup of Beaten/Flattened Rice for 30 minutes.
3. Grind the fresh grated Coconut to a paste by adding little water. Keep the Coconut paste aside.
4. To a mixer jar add soaked Raw Rice, soaked Beaten/Flattened Rice, Salt & Water. Grind to smooth flowing batter.
5. The batter has to Ferment for 12 hours in room temperature.
6. To the Fermented batter add 2 tsp of ground Coconut paste. You can add a pinch of Baking / Cooking soda (optional).
7. Mix gently & leave for 10 minutes.
To make the egg appam
1. Pour a ladle of the appam batter into the appam skillet and swirl it around to cover the sides
2. Wait for a couple of seconds and crack open an egg in the middle
3. Close and cook the appam till it is cooked through
4. Simple Egg Appam is ready to be served now
Curry Egg Appam
1. Crack open an egg, add some chicken gravy into it
2. Whisk it till it is well combined
3. Pour a ladle of the appam batter into the appam skillet and swirl it around to cover the sides
4. Wait for a couple of seconds and pour in the egg mixture and swirl it around
5. Close and cook the appam till it is cooked through
6. Curry Egg Appam is ready to be served now
You can buy our book and classes on
http://www.21frames.in/shop
HAPPY COOKING WITH HOMECOOKING
ENJOY OUR RECIPES
WEBSITE:
http://www.21frames.in/homecooking
FACEBOOK -
https://www.facebook.com/HomeCookingShow
YOUTUBE:
https://www.youtube.com/user/VentunoHomeCooking
INSTAGRAM -
https://www.instagram.com/homecookingshow
A Ventuno Production :
http://www.ventunotech.com