2 years ago
Home Cooking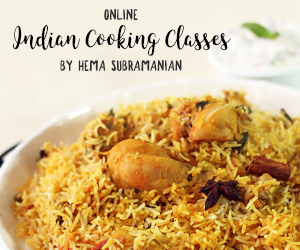 2 years ago
|
Home Cooking
DESCRIPTION
Ingredients
Boiled Egg - 6 Nos
Coconut Oil - 2 Tbsp
Onion - 5 Nos Thinly Sliced
Pound Ginger & Garlic
Tomato - 1 No.
Green Chilli - 4 Nos Slit
A Few Curry Leaves
Pepper Powder - 3 Tsp
Cumin Powder - 1 Tsp
Water - 3 Cups
Salt
Coriander Leaves
Method:
1. To a wide pan, add coconut oil.
2. To this add sliced onion and saute until they trun golden brown in color.
3. Add pound ginger garlic, tomato, green chilli and curry leaves.
4. Saute this for 2 mins.
5. To this add, salt, pepper powder and cumin powder and mix well.
6. To this add 3 cups of water in intervals and let it boil for approximated for 15 mins.
7. Check for seasoning and add salt, pepper powder if needed. Add coriader leaves and mix.
8. Cut the boiled egg into half and place it in the pepper masala.
9. Cover and cook for 2 mins.
10. Now flip the egg and cover and cook for another 2 mins.
11. Spicy Egg Pepper masala is ready.
You can buy our book and classes on
https://www.21frames.in/shop
HAPPY COOKING WITH HOMECOOKING
ENJOY OUR RECIPES
WEBSITE:
https://www.21frames.in/homecooking
FACEBOOK
https://www.facebook.com/homecookingt...
YOUTUBE:
https://www.youtube.com/HomeCookingTamil
INSTAGRAM -
https://www.instagram.com/homecooking...
A Ventuno Production :
https://www.ventunotech.com/