6 years ago
Home Cooking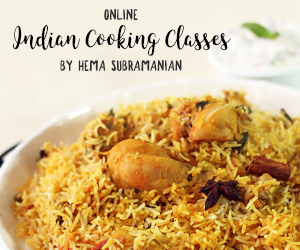 Kakarakaya Kura (Bitter Gourd stir fry)
6 years ago
|
Home Cooking
DESCRIPTION
Kakarakaya Kura (Bitter Gourd stir fry)
Ingredients
Bitter Gourd - 4 to 5 cut into round
Onion - 2 thinly sliced
Turmeric powder - 2 tsp
Tamarind
Salt to taste
Brown sugar (or) Powdered Jaggery - 2 tbsp
Oil - 1 tbsp
Mustard seeds - 1/2 tsp
Asafoetida powder - 1/4 tsp
A few Curry leaves
To make Masala powder
Coriander powder - 1 tbsp
Fennel seeds - 1 tsp
Red chilli - 4 to 5
Fenugreek seeds - 1 tsp
Method:
1. Boil bitter gourd for about 10 minutes with salt, turmeric and tamarind to reduce the bitterness.
2. Strain the excess water and remove tamarind pulp.
3. To make masala powder - grind fenugreek seeds, coriander powder, fennel seeds and whole red chilles.
4. In a pan, heat 1 tbsp of oil and add mustard seeds to it. Once they start splattering, add asafoetida powder and curry leaves.
5. Add onions and sauté for a few minutes.
6. Add bitter gourd, masala powder, powdered jaggery/brown sugar and salt.
7. Cook for 5 minutes and it's ready to be served with rice or chapathi.
WEBSITE:
http://www.21frames.in/homecooking
FACEBOOK -
https://www.facebook.com/HomeCookingShow
INSTAGRAM -
https://www.instagram.com/homecookingshow/
TWITTER -
https://twitter.com/VentunoCooking
A Ventuno Production :
http://www.ventunotech.com