5 years ago
Home Cooking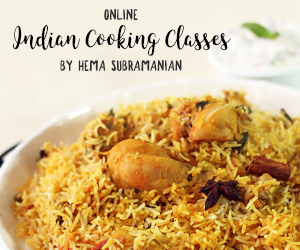 Mamidikaya Pappu in Telugu
5 years ago
|
Home Cooking
DESCRIPTION
Mamidikaya Pappu (Raw Mango Dal)
Ingredients:
Raw Mango - 1 large (deskinned & cut to big cubes)
Water - 2 cups
Toor dal -1 cup (rinsed)
Turmeric powder - 1/2 tsp
Oil - 1 tsp
Onion - 2 nos (choped)
Green chili - 1 no. (chopped)
Chili powder - 2 tsp
For Tempering:
Split urad dal - 1 tsp
Dry red chilis - 2 nos
Mustard seeds - 1/2 tsp
Cumin seeds - 1/2 tsp
Asafoetida powder - 1 tsp
Garlic - few cloves (crushed)
few curry leaves
Mamidikaya Pappu (Raw Mango Dal) in English:
https://goo.gl/mBKyW5
Raw Mango Rice recipe:
https://goo.gl/nhV7y6
Aam Panna recipe:
https://goo.gl/3xpiR8
You can buy our book and classes on
http://www.21frames.in/shop
Method:
1. In a pressure cooker add water, toor dal, turmeric powder, oil, onion, green chili, raw mango pieces and chilli powder.
2. No need to stir. Just close and pressure cook for 4 to 5 whistles.
3. Once cooked, add salt and gently mix
4. Heat ghee & oil. Temper urad dal, dry red chilis, mustard seeds, cumin seeds, asafoetida powder, garlic and curry leaves
5. Add the cooked mango dal and mix. Done!
HAPPY COOKING WITH HOMECOOKING
ENJOY OUR RECIPES
WEBSITE:
http://www.21frames.in/homecooking
FACEBOOK -
https://www.facebook.com/HomeCookingShow
YOUTUBE:
https://www.youtube.com/user/VentunoHomeCooking
INSTAGRAM -
https://www.instagram.com/homecookingshow
A Ventuno Production :
http://www.ventunotech.com