5 years ago
Home Cooking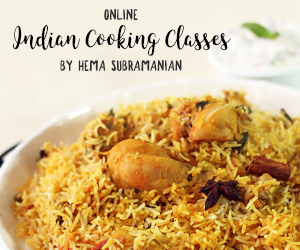 Murungakkai Kara Kuzhambu
5 years ago
|
Home Cooking
DESCRIPTION
Murungakkai Kara Kuzhambu (Drumstick Curry)
Ingredients
Gingelly oil - 2 tbsp
Chana dal - 1 tsp
Urad dal - 1 tsp
Mustard seeds - 1/2 tsp
Cumin seeds - 1/2 tsp
Red chili - 3 no
Asafoetida powder - 1/4 tsp
Fenugreek seeds - 1/4 tsp
Garlic - 8 no
Shallots - 1 cup
Curry leaves
Tomato - 1 chopped
Turmeric powder - 1/4 tsp
Chili powder - 1 tsp
Sambar powder - 3 tsp (FULL RECIPE link:
https://goo.gl/zYqDZ6
)
Salt - 1 tsp
Water
Drumstick - 2 no
Tamarind puree - 1/2 cup
Method:
1.Take a wide saucepan, add 2 tbsp of ginger oil.
2.Temper ingredients - 1 tsp of chana dal, 1 tsp of urad dal, 1/2 tsp of mustard seeds, 1/2 tsp of cumin seeds, 3 red chili, 1/4 tsp of asafoetida powder, 1/4 tsp of fenugreek seeds.
3.Once it starts spluttering, add 8 cloves of garlic, a cup of shallots, few curry leaves, 1 chopped tomato. Cook for 2 to 3 minutes.
4.Now, add 1/4 tsp of turmeric powder, 1 tsp of chili powder, 3 tsp of sambar powder, 1 tsp of salt and mix it well.
5.Add 2 cut up drumstick pieces into the mixture and mix it with the tamarind puree.
6.Now, pour 1 1/2 cups of water and once it comes to boil. Close and cook for 10 minutes.
Murungakkai Kara Kuzhambu is done. Serve it with cooked rice and appalam.
WEBSITE:
http://www.21frames.in/homecooking
FACEBOOK -
https://www.facebook.com/HomeCookingShow
INSTAGRAM -
https://www.instagram.com/homecookingshow/
TWITTER -
https://twitter.com/VentunoCooking
A Ventuno Production :
http://www.ventunotech.com