5 years ago
Home Cooking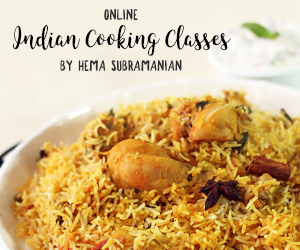 5 years ago
|
Home Cooking
DESCRIPTION
OLAN
Olan is usually served as part of a sadhya feast, a variety of dishes traditionally served on a banana leaf in Kerala. It is a dish made with red gram and some vegetables cooked in coconut milk, which gives it a rich and creamy texture. Since this is a less spicy dish, everyone, including children enjoy it with pleasure. Any sadhya is said to be incomplete without Olan as a part of the menu. We present you with an easy recipe for this simple yet delicious dish, prepared by Mrs. Hema Subramaniam.
Ingredients:
Black Eyed Peas (Soaked) - 1 cup
Water
Coconut Oil
Ash Gourd - 1 bowl
Slit Green Chili
Curry leaves
Salt
Diluted Coconut milk - 3/4 cup
Thick Coconut milk - 1 cup
Supplies:
Buy Coconut Oil –
https://goo.gl/yhRKLK
Buy Pan –
https://goo.gl/TqvZiL
Buy Pressure Cooker -
https://goo.gl/GsrKUQ
Method:
1. In a pressure cooker, pour enough water and add 1 cup of black eyed peas (soaked for at least 3 hours).
2. Close the lid of the cooker, and after fitting the whistle on the top, pressure cook for 3 to 4 whistles.
3. Once the peas have cooked, strain them and keep them aside.
4. Take a wide sauce pan or kadai and add a little Coconut oil to it.
5. Once the oil is heated, add a bowl of Ash Gourd (Winter melon) cut into cubes, few slit Green Chilies and some Curry leaves.
6. For seasoning, add some salt as per your taste and finally pour a little Water and close the pan and let it cook on a low flame.
7. Once the Ash Gourd is cooked, add the peas to it.
8. Gently give it a stir and let it cook on a low flame.
9. Add 3/4 cup of Diluted Coconut Milk and after a minute, add 1 cup of thick Coconut milk.
10. Check to make sure the seasoning is just right.
11. Your Kerala delicacy, olan is ready to be devoured. Serve hot. Enjoy the flavour of this traditional dish on Onam with your family.
WEBSITE:
http://www.21frames.in/homecooking
FACEBOOK -
https://www.facebook.com/HomeCookingShow
INSTAGRAM -
https://www.instagram.com/homecookingshow/
TWITTER -
https://twitter.com/VentunoCooking
A Ventuno Production –
http://www.ventunotech.com