6 years ago
Home Cooking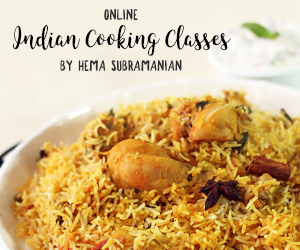 6 years ago
|
Home Cooking
DESCRIPTION
Ingredients
For Palak Puree
Palak/Spinach - 1 bunch
Water
Frying Paneer (Optional)
Ghee - 1 tsp
Paneer - 200 gms
For Palak curry
Ghee - 2 tsp
Piece of Cinnamon
Bay leaf - 2 nos
Cumin seeds - 1/4 tsp
Onion - 2 nos chopped
Green chilli - 2 nos chopped
A piece of Ginger chopped & pound
Turmeric powder - 1/2 tsp
Garam Masala powder - 1/4 tsp
Few Dried Fenugreek leaves (Kasuri Methi)
Salt to taste
Sugar - 1/4 tsp
Cream - 2 tsp
Paneer Ghee Roast recipe:
https://goo.gl/iwTDzS
Shahi Paneer recipe:
https://goo.gl/4XbMrt
You can buy our book and classes on
http://www.21frames.in/shop
Method:
1. Boil water in a deep pan.
2. Add the Palak, close the lid & cook for 5 minutes.
3. Once cooked, strain & let it cool.
4. Blend the Palak. Add a little Water while grinding.
5. Heat ghee in a saucepan & shallow fry the Paneer pieces & keep aside. This step is an optional.
6. To the same saucepan add 2 tsp ghee, a piece of Cinnamon, Bay leaf, 1/4 tsp of cumin seeds.
7. Add the Onions, Green chillies, Ginger & 1/2 tsp of Turmeric powder.
8. Add the Palak puree & mix well.
9. Add Garam masala powder, Few Dried Fenugreek leaves (Kasuri Methi), Salt, Sugar & mix well.
10. Close the pan & cook in simmer for 10 minutes.
11. Add the shallow fried Paneer & mix gently.
12. Close & cook for another 5 minutes.
13. Garnish it with fresh Cream & serve with any Roti or Naan.
HAPPY COOKING WITH HOMECOOKING
ENJOY OUR RECIPES
WEBSITE:
http://www.21frames.in/homecooking
FACEBOOK -
https://www.facebook.com/HomeCookingShow
YOUTUBE:
https://www.youtube.com/user/VentunoHomeCooking
INSTAGRAM -
https://www.instagram.com/homecookingshow
A Ventuno Production :
http://www.ventunotech.com