4 years ago
Home Cooking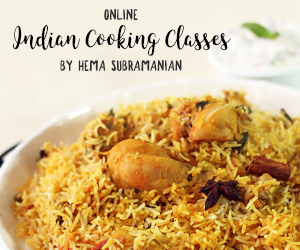 Paneer Butter Masala in Telugu
4 years ago
|
Home Cooking
DESCRIPTION
Paneer Butter Masala
Ingredients:
Malai Paneer - 200 gms
Butter - 2 to 3 Tbsp
Few Cinnamon & Cloves
Seeds of 1 Cardamom
Cumin seeds - 1 tsp
Fennel seeds - 1/4 tsp
Onins - 3 nos (finely chopped)
Turmeric powder - 1/4 tsp
Kashmiri Chilli powder - 2 tsp
Cumin powder - 1 tsp
Garam masala - 1/2 tsp
Tomatoes - 6 nos (blanched)
Salt
Cashew nuts - 10 nos
Ginger Garlic paste - 1 tsp
Cumin powder - 1/2 tsp
Sugar - 1/2 tsp
Fresh cream - 2 Tbsp
Paneer Butter Masala in English:
https://goo.gl/C63mXu
Home-Made Paneer recipe:
https://goo.gl/rS6cfg
Paneer Kathi Roll recipe:
https://goo.gl/bYzg4M
You can buy our book and classes on
http://www.21frames.in/shop
Method:
1. In a wide pan heat 1 Tbsp butter
2. Add cinnamon, cloves, cardamom seeds, cumin seeds, fennel seeds and saute
3. Once the cumin seed starts to brown, add the onions and saute
4. Once the onion turns transparent add turmeric powder, kashmiri chilli powder, cumin powder, garam masala and mix well
5. Add tomato and salt. cook for 2 minutes
6. Add cashew nuts and cook for another 2 minutes. Let it cool.
7. Grind with little water to a thin pasty batter consistency
8. In the same pan, heat 1 Tbsp butter, ginger garlic paste. Reduce flame and mix well
9. Add cumin powder and then add the grounded batter, sugar and a dollop of butter. Mix well
10. Finally, add the malai paneer and cook for 1 minute and shift to a container
11. Garnish with fresh cream and serve!
HAPPY COOKING WITH HOMECOOKING
ENJOY OUR RECIPES
WEBSITE:
http://www.21frames.in/homecooking
FACEBOOK -
https://www.facebook.com/HomeCookingShow
YOUTUBE:
https://www.youtube.com/user/VentunoHomeCooking
INSTAGRAM -
https://www.instagram.com/homecookingshow
A Ventuno Production :
http://www.ventunotech.com