4 years ago
Home Cooking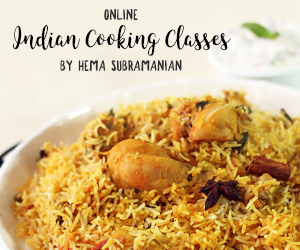 4 years ago
|
Home Cooking
DESCRIPTION
Here's an easy recipe for the Paneer Ghee Roast. Do try it and enjoy with your friends and family.
Ingredients
For Marination
Paneer - 200 gms
Salt - 1/2 tsp
Juice of a Lemon
Curd -1/2 cup
For Masala
Coriander Seeds - 4 tsp
Peppercorns - 1/2 tsp
Cumin Seeds - 1 tsp
Fennel Seeds - 1/2 tsp
Fenugreek Seeds - 1/4 tsp
Kashmiri Red Chili - 5 nos
Red Chili - 2 nos
Garlic - 3 cloves(chopped)
Ginger - 1 piece(chopped)
Tamarind - 1 small piece
Ghee
For Cooking
Ghee - 2 tbsp
Onion - 1 no (chopped)
Turmeric Powder - 1/4 tsp
Powdered Jaggery - 1 tsp
Salt
Paneer 65 Recipe:
https://goo.gl/C2WVD4
Matar Paneer Recipe:
https://goo.gl/3fRvbT
You can buy our book and classes on
http://www.21frames.in/shop
Method
1. Firstly, marinate the paneer with lemon juice, salt, and curd
2. Marinate it for about 30 minutes
3. In a kadai, add ghee and roast coriander seeds, pepper, cumin seeds, fennel seeds, fenugreek seeds, kashmiri red chili, red chili. ginger, garlic, tamarind
4. Roast the ingredients and let it cool
5. Grind it to a fine paste
6. In a kadai, add ghee and saute chopped onions
7. Add turmeric powder and the ground paste
8. Mix well and add salt and jaggery
9. Now, add the marinated paneer pieces
10. Cook it till they become thick.
11. Your Paneer Ghee Roast is ready to be served hot.
HAPPY COOKING WITH HOMECOOKING
ENJOY OUR RECIPES
WEBSITE:
http://www.21frames.in/homecooking
FACEBOOK -
https://www.facebook.com/HomeCookingShow
YOUTUBE:
https://www.youtube.com/user/VentunoHomeCooking
INSTAGRAM -
https://www.instagram.com/homecookingshow
A Ventuno Production :
http://www.ventunotech.com