6 years ago
Home Cooking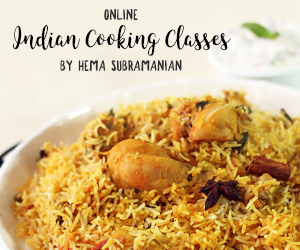 Peas Masala (Matar Masala)
6 years ago
|
Home Cooking
DESCRIPTION
PEAS MASALA (MATAR MASALA) | Main Course - Side Dish
The tangy taste of tomatoes perfectly balanced with the sweetness of the peas and the slight spiciness of the onions. Isn't just listening to this description making your mouths water? The tantalizing aroma and the way it is beautifully served in a bowl with simple garnishing with some cashews and fresh coriander leaves only makes it that much more appealing, and makes us that bit more hungry. So, wasting no more time, we are here to share the recipe to this simple dish with you all. After all, Food is Life, Food is Heaven, and keeping such life and heaven away from anyone is a crime…
Ingredients

Boiled Peas - 150 grams
Blanched Tomatoes - 2 no.
Butter - 1 tsp.
Few Cloves Garlic
Small Piece Ginger
Green Chili - 1 no.
Onions - 2 no.'s (chopped)
Turmeric powder - 1/4 tsp.
Chili powder - 1 tsp.
Salt
Cashew Nuts - 6 to 8 no.
Water
Butter - 1 tsp.
Few Whole Spices (Cloves, Cinnamon & Cardamom)
Onion - 1 no (chopped)
Chana Masala- 1 tsp.
Cumin powder - 1 tsp.
Kasturi Methi - 1 tsp.
Water
Salt
Sugar - 1/2 to 1 tsp.

Method:
1. First boil the peas in some water with a little salt.

2. Blanch two tomatoes and keep aside.

3. In a large pan, heat 1 tsp. butter. Sauté garlic, ginger, green chili & chopped onions.

4. Add the blanched tomato and mix well. (Blanching is nothing but keeping the tomatoes in boiling water for an interval of time and then immediately being dumped into ice cold water or kept under running cold water. Then, remove the skin of the tomatoes and chop it roughly.)

5. Add turmeric powder, chili powder and salt to the mixture. Let it cook for a minute.

6. Add cashew nuts and give it a stir. Turn off the stove and keep the pan aside to cool.

7. Once cooled, add a little water & grind it to a paste.

Now it's time to sauté the second set of ingredients.
8. Again, heat 1 tsp. of butter in a pan. Sauté cloves, cinnamon, cardamom & a chopped onion.

9. Once the onion turns brown, add chana masala and cumin powder to the pan. Mix well.

10. Add the ground masala paste, boiled peas, kasturi methi and a cup of water to the pan. Let it boil.

11. Season it with some salt. Finally, add a little sugar to balance the flavours. Close the pan with a lid and let the contents cook for 10 minutes.

12. Your Matar Masala (Peas Masala) is ready to be served. Have it with some hot chappati for the best experience.