7 years ago
Home Cooking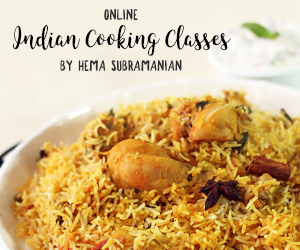 Plantain fry (Vazhakkai poriyal)
7 years ago
|
Home Cooking
DESCRIPTION
Plantain fry (Vazhakkai poriyal)
Ingredients
Plantain - 3 cut into small pieces
Onion - 1 finely chopped
Grated Coconut - 1/2 cup
Chilli powder - 1tbsp
A few Curry leaves
Salt to taste
Oil - 2 tbsp
For Tempering
Mustard seeds - 1/2 tsp
Cumin seeds - 1/2 tsp
Split Urad dal - 1 tsp
Asafoetida powder - 1/2 tsp
Method:
1. Add chilli powder and salt to the plantain pieces and mix them well. Let it sit for about 10 minutes.
2. For the tempering - add oil to a kadai. Add urad dal, mustard seeds, cumin seeds and asofoetida powder. Then add the onions and curry leaves.
3. Once the onions turn transparent, add the plantain. Stir it well, cover it and let it cook for about 5 minutes.
4. Finally, add fresh grated coconut and mix it well.
Like us on FACEBOOK -
https://www.facebook.com/HomeCookingShow
Follow us on TWITTER -
https://twitter.com/VentunoCooking
Subscribe to YouTube -
http://www.youtube.com/user/VentunoHomeCooking
A Ventuno Production :
http://www.ventunotech.com