7 years ago
Home Cooking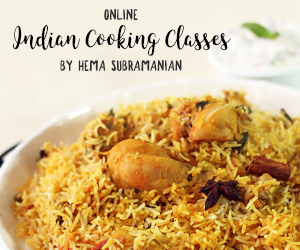 Poondu Rasam (Garlic Rasam)
7 years ago
|
Home Cooking
DESCRIPTION
Poondu Rasam (Garlic Rasam)
Ingredients
Tamarind puree - 1 large cup
A few chopped Coriander leaves
Salt to taste
For Masala
Pepper - 2 tsp
Cumin seeds - 2 tsp
Green chilli - 3
For Tempering
Mustard seeds - 1/2 tsp
Red chilli - 3
A few Curry leaves
Asafoetida powder - 1/4 tsp
Turmeric powder - 1/4 tsp
Tomato - 1 chopped
Garlic - 6 to 7 crushed
Method:
1. Add the pepper, cumin seeds, green chillies and grind it to make a coarse masala.
2. Mix this masala into the diluted tamarind puree.
3. Boil it for a few minutes.
4. Meanwhile, to temper the ingredients: Heat a tsp of oil, add mustard seeds, red chillies, curry leaves, asafoetida powder, turmeric powder and tomatoes.
5. Add Pounded garlic, salt and mix it well.
6. Once the mixture is under the flame, boiling, for about five minutes, turn off the stove and add it to the tempering.
7. Let it boil for a couple of minutes till the raw smell goes.
8. The garilc rasam is ready to be served & garnish it with chopped coriander leaves.
Like us on FACEBOOK -
https://www.facebook.com/HomeCookingShow
Follow us on TWITTER -
https://twitter.com/VentunoCooking
Subscribe to YouTube -
http://www.youtube.com/user/VentunoHomeCooking
A Ventuno Production :
http://www.ventunotech.com