4 years ago
Home Cooking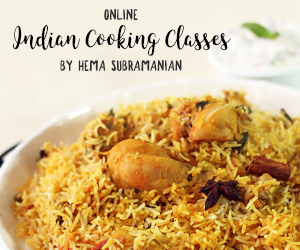 4 years ago
|
Home Cooking
DESCRIPTION
Poori Recipes
#Bananapoori #Greenpeaspoori #tomatopoori #homecooking #recipes
Banana Poori
Ingredients
Wheat flour - 1 1/2 cup
Cumin seeds - 1/2 tsp
Cooking soda - 1/4 tsp
Oil for frying
For Blending
Banana - 1
Cardamom powder - 1/2 tsp
Sugar - 2 tsp
Yogurd/Curd - 1 tbsp
Method:
Banana Yogurt Blend
1. Peel the Banana & add it to the mixer.
2. Add 1/2 tsp Cardamom powder, 2 tsp Sugar, 1 tbsp Yogurt (Curd) & blend together.
Wheat flour mix
3. Take 1.5 cups Wheat flour
4. Add 1/2 tsp Cumin seeds, 1/4 tsp cooking soda & mix well.
5. Gradually mix the banana yogurt puree & knead it well till you get a palliable dough.
6. Let it sit for about 30 minutes.
7. Take a small piece of dough & roll it flat like chapatis.
8. If you wish, use a canister cover to get a perfect circular shape.
9. Make sure the Oil is hot & drop the puri in.
10. Toss oil on the puri & turn it as desired
11. Once the puri turns to light brown in color take it out.
12. Enjoy the Banana Poori.
Green Peas Poori
Ingredients:
Whole Wheat Flour - 2 cups
Turmeric powder - 1/4 Tsp.
Chili powder - 1/2 Tsp.
Cumin powder - 1/2 Tsp.
Coriander powder - 1/2 Tsp.
Salt - 1/2 Tsp.
Few chopped Mint leaves
Few chopped Coriander leaves
Boiled Green Peas - 1 cup
Oil - 1 Tsp.
Water
Oil for frying
Method:
1. Boil green peas with out salt in some water.
2. In a mixing bowl, add Wheat Flour, Turmeric powder, Chili powder, Cumin powder, Coriander powder, Salt, Mint leaves, Coriander leaves & boiled Green Peas.
3. Mix them. Add some oil and water gradually. Knead into soft dough. Let the dough sit for 10 to 15 minutes.
4. Make small balls of dough and start to flatten it, making sure it is not too thin.
5. Deep fry in boiling hot oil.
6. Remove when it starts to turn light brown in color
7. Serve hot with any sabzi of your choice.
Tomato poori
Ingredients
Wheat flour - 1 cup
Puree of 1 large Tomato
Semolina - 1/4 cup
Chilli powder - 1 tsp
Salt to taste
Cumin seeds - 1 tsp
Baking (or) Cooking soda a pinch
A few Mint leaves
Oil for frying
Method:
1. In a big bowl mix wheat flour, semolina, salt, chilli powder, cumin seeds, baking (or) cooking soda and mint leaves.
2. To make the dough, instead of using water we are going to use tomato puree. Add tomato puree in wheat flour mixture and knead the dough well.
3. Leave the dough for 10 minutes.
4. Make small balls from the dough, dust it with flour and roll them out into round pooris.
5. Once the oil is hot, deep fry the pooris.
Serve it hot with poori masala.
You can buy our book and classes on
http://www.21frames.in/shop
HAPPY COOKING WITH HOMECOOKING
ENJOY OUR RECIPES
WEBSITE:
http://www.21frames.in/homecooking
FACEBOOK -
https://www.facebook.com/HomeCookingShow
YOUTUBE:
https://www.youtube.com/user/VentunoHomeCooking
INSTAGRAM -
https://www.instagram.com/homecookingshow
A Ventuno Production :
http://www.ventunotech.com