5 years ago
Home Cooking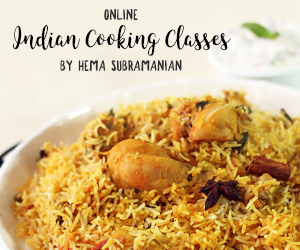 5 years ago
|
Home Cooking
DESCRIPTION
Shahi Mushroom
Ingredients
Ghee - 3 tsp
Bay leaf - 1 no.
Cumin seeds - 1/2 tsp
Few cloves of Garlic
Piece of Ginger
Green chili - 1 no.
Onion - 2 nos grated
Tomato puree
Salt to taste
Turmeric powder - 1/2 tsp
Kashmiri Chili powder - 2 tsp
Cumin powder - 1 tsp
Water
Mushroom - 500 gms
Shahi Masala powder - 1 tsp
Sugar - 1 tsp
Juice of 1/2 lemon
Few chopped Coriander leaves
For Shahi Masala powder
Coriander seeds - 2 tsp
Peppercorns - 1 tsp
Cumin seeds - 1 tsp
Shahi Jeera - 1 tsp
Black Cardamom - 2 nos
Green Cardamom - 2 nos
Piece of Cinnamon
Few Clove
Piece of Mace/Javitri
For Cashew paste
Few Cashewnuts
Water
Mushroom Hakka Noodles recipe -
https://goo.gl/DKebvs
Chettinad Mushroom Masala recipe -
https://goo.gl/GVAp1B
You can buy our book and classes on
http://www.21frames.in/shop
Method:
For Shahi Masala powder:
1.Take coriander seeds, pepper corns, cumin seeds, shahi jeera, black cardamom, green cardamom, cinnamon sticks, clove, mace/javitri and dry roast all these together. Turn off the stove after 2 to 3 minutes & cool the mixture. Grind to fine powder. Shahi Masala powder is ready keep aside.
2. Grind cashew nuts by adding water to a paste. Keep aside.
3. Take a sauce pan add ghee, bay leaf, cumin seeds, roughly pound garlic, green chili & ginger.
Then add onion & saute it.
4. After onion turns brown add tomato puree, salt, turmeric powder, kashmiri chili powder, cumin powder and water. Close the lid (Buy :
https://goo.gl/HVptwr
) and cook till raw smell goes off.
5. Take an another pan add ghee and mushrooms. Stir fry it.
6. Add cashew nut paste, shahi masala powder and sugar in to the tomato puree mixture. Mix it well together.
7. Add fried mushrooms to the mixture and mix it well. Cook for 5 minutes.
8. Finally add lemon juice and garnish it with coriander leaves.
9. Shahi Mushroom is ready to serve with chapati, roti or rice.
#shahimushroomintelugu #shahimushroom #homecooking #recipes #food #mushroom #mushroomrecipes
HAPPY COOKING WITH HOMECOOKING
ENJOY OUR RECIPES
WEBSITE:
http://www.21frames.in/homecooking
FACEBOOK -
https://www.facebook.com/HomeCookingShow
INSTAGRAM -
https://www.instagram.com/homecookingshow
A Ventuno Production :
http://www.ventunotech.com