5 years ago
Home Cooking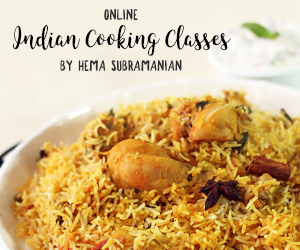 Snake Gourd Curry (Pudalangai Poriyal)
5 years ago
|
Home Cooking
DESCRIPTION
SNAKE GOURD CURRY (PUDALANGAI CURRY)
Snake gourd curry, commonly known in the south as pudalangai curry, is one of the most easy, but most healthy dishes to make. It is a healthy vegetable which is helpful in fighting various diseases. This is known to be a common dish in most healthy menus. A perfect side for any dish or delicacy, Mrs. Hema Subramanian shows you an easy recipe to master this dish.
Ingredients:
Snake gourd (Pudalangai) - 250 grams thinly sliced
Cooked Moong Dal - 1/2 cup
Onion - 1 thinly sliced
Green Chilli - 1
Garlic - 3 to 4 cloves
Turmeric powder - 1/4 tsp.
Grated Coconut - 4 tbsp.
A few Curry leaves
Salt to taste
For Tempering
Coconut oil - 3 tsp.
Mustard Seeds - 1/4 tsp.
Urad Dal - 1/4 tsp.
Cumin seeds - 1/4 tsp.
Supplies:
Buy pan –
https://goo.gl/TqvZiL
Buy coconut oil –
https://goo.gl/yhRKLK
Method:
1. Heat coconut oil in a pan. Add the ingredients for tempering (Mustard seeds, Cumin seeds & Urad dal) in the pan and give it a quick stir.
2. Once the mustard seeds start splattering, add onions and green chili to the pan. Sauté them for few minutes.
3. Now, add Snake gourd (Pudalangai) to the pan and mix well.
4. Season with some turmeric powder and salt give it a quick stir to mix it evenly.
5. Drizzle some water in the pan to cook the vegetables.
6. Pound few cloves of garlic without peeling off the skin. Add this ground garlic to the vegetables, then add the curry leaves.
7. Mix it well and close the pan with a lid. Let the dish cook for a few minutes.
8. Finally, remove the lid and add the cooked moong dal. Mix well so all the ingredients are evenly mixed and spread. After a minute, add the freshly grated coconut.
9. Gently mix it and turn off the stove.
Best with:
Your snake gourd curry is ready to be served. It tastes best when sizzling hot, so serve the dish hot to your family and guests. Have it as a side dish for any variety of rice or even for a north Indian roti or chapatti.
Visit our website –
http://www.21frames.in/homecooking
Follow us on Facebook –
https://www.facebook.com/HomeCookingShow
Follow us on Instagram –
https://www.instagram.com/homecookingshow/
Follow us on Twitter –
https://twitter.com/VentunoCooking
Subscribe to us on YouTube –
https://www.youtube.com/user/VentunoHomeCooking
A Ventuno Production –
http://www.ventunotech.com