8 years ago
Home Cooking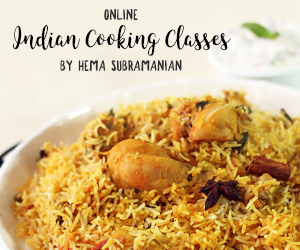 Sweet & spicy Mango pickle
8 years ago
|
Home Cooking
DESCRIPTION
Sweet & spicy Mango pickle
Ingredients
Raw Mango - 1 1/2 cup
Melted Jaggery - 1/2 cup
Mustard seeds - 1 tsp
Cumin seeds - 1 tsp
Asafoetida powder - 1 tsp
Ginger - 2 tsp
Turmeric powder - 1/2 tsp
Chilli powder - 1 tbsp
Salt to taste
Gingelly oil - 2 tbsp
Method
1. Add Gingelly oil to the pan, once oil is heated up add Mustard seeds, wait till it crackle, and then add Cumin seeds, Turmeric powder, Chilli powder, Asafoetida powder, Ginger, Raw Mango, salt & mix well.
2. Cook it in a low flame, without adding water. Keep stirring it.
3. Once the Mango cooked, make sure the pieces are tendered. Its time to add Melted Jaggery. Let it cook for about 10 minutes, till the jaggery reduces.
4. Turn off the stove when jaggery reduced.
5. Store it refrigerate the Sweet & spicy Mango pickle.
Like us on FACEBOOK -
https://www.facebook.com/HomeCookingShow
Follow us on TWITTER -
https://twitter.com/VentunoCooking
Subscribe to YouTube -
http://www.youtube.com/user/VentunoHomeCooking
A Ventuno Production :
http://www.ventunotech.com