2 years ago
Home Cooking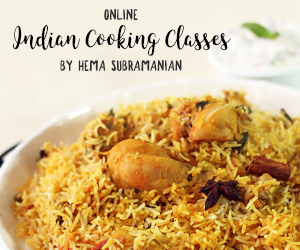 2 years ago
|
Home Cooking
DESCRIPTION
Tomato Bath in Telugu
Ingredients
Ghee - 2 tbsp
Cinnamon
Cloves
Chopped Onion - 2 no
Green Chili - 3 no
Curry leaves
Ginger Garlic paste - 1/2 tsp
Chopped Tomato - 3 no
Rock Salt - 1 tsp
Water - 1 cup
Semolina - 1/2 cup
Roasted Cashew nuts
Coriander leaves
Rava Dosa recipe -
https://goo.gl/1kf1P4
Millet Upma recipe -
https://goo.gl/1rKhMm
You can buy our book and classes on
http://www.21frames.in/shop
Method:
1. Take a wide saucepan, add 2 tbsp of Ghee, a pc of Cinnamon & few Cloves, 2 medium Chopped Onion, 3 Chopped Green Chili. Saute it.
2. Once Onion is transparent, add few Curry leaves, 1/2 tsp of Ginger Garlic paste, 3 Chopped Tomato, 1 tsp of Rock Salt. Mix it well.
3. Add 1 cup of Water and 1/2 cup of fine Semolina. (Ratio is 1:2, for 1 cup of water: add 1/2 cup of semolina)
4. Close and cook for 5 minutes on medium low flame till Semolina is completely cooked.
5. Garnish it with roasted Cashew nuts and Coriander leaves.
6. Turn off the stove and drizzle with little Ghee.
Your Tomato Bath is ready to be served.
HAPPY COOKING WITH HOMECOOKING
ENJOY OUR RECIPES
WEBSITE:
http://www.21frames.in/homecooking
FACEBOOK -
https://www.facebook.com/HomeCookingShow
YOUTUBE:
https://www.youtube.com/user/VentunoHomeCooking
INSTAGRAM -
https://www.instagram.com/homecookingshow
A Ventuno Production :
http://www.ventunotech.com