5 years ago
Home Cooking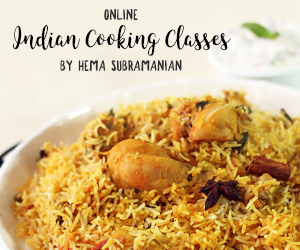 Tomato Chutney (Tomato Thokku)
5 years ago
|
Home Cooking
DESCRIPTION
Prep time: 10 minutes
Cook time: 20 minutes
Number of Servings: 3-4 persons
Ingredients
Tomato - 4 nos
Gingelly/Sesame Oil - 1 1/2 tbsp
Urad Dal - 1 tsp
Mustard seeds - 1 tsp
A pinch of Asafoetida powder
Garlic - 10 cloves
A few Curry leaves
Onion - 1 no. chopped
Salt to taste
Chilli powder - 2 tsp
Turmeric powder - 1/2 tsp
Tomato Rice recipe:
https://goo.gl/RGMGXV
Tomato Soup recipe:
https://goo.gl/o5yKop
You can buy our book and classes on
http://www.21frames.in/shop
Method
First step: Blanch the Tomatoes
1. Boil the Tomatoes in water. Remove the skin, cut in to small piece & keep aside.
2. Then, Heat 1 & 1/2 tbsp of Gingelly/Sesame Oil in a wide pan.
3. Add 1 tsp pf Urad Dal,1 tsp of Mustard seeds, a pinch of Asafoetida powder.
4. Add 10 cloves of whole Garlic & few Curry leaves.
5. Add the 1 no. of chopped Onion & Saute it till Onion turns golden brown in color.
6. Add the blanched Tomatoes & mix well
7. Now add Salt, 2 tsp of Chilli powder, 1/2 tsp of Turmeric powder & mix it.
8. Saute till it becomes thick & the oil starts to separate.
9. Your tangy, spicy & concentrated Tomato Chutney (Tomato Thokku) is ready. You can have it with Dosa, Idli, Chappati or Steamed Rice. You can store it for up-to 4 days in the refrigerator.
HAPPY COOKING WITH HOMECOOKING
ENJOY OUR RECIPES
WEBSITE:
http://www.21frames.in/homecooking
FACEBOOK -
https://www.facebook.com/HomeCookingShow
YOUTUBE:
https://www.youtube.com/user/VentunoHomeCooking
INSTAGRAM -
https://www.instagram.com/homecookingshow
A Ventuno Production :
http://www.ventunotech.com