4 years ago
Home Cooking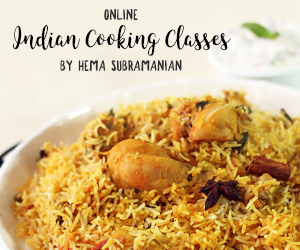 4 years ago
|
Home Cooking
DESCRIPTION
Pressure Cooker Vegetable Biryani
Ingredients
Basmati Rice - 1 Cup (250 Ml)
Ghee - 3 Tsp
Whole Spices [Cinnamon, Cardamom Pod - 3 Nos, Star Anise - 1 No.
Mace, Clove, Bay Leaf, Stone Flower (Optional)]
Onion - 2 Nos Chopped
Ground Masala Paste
Oil - 2 Tsp
Tomato - 2 Nos Chopped
Turmeric Powder - 1/4 Tsp
Salt
Curd - 1/4 Cup
Potato - 1 No. Large
Carrot - 1 No. Chopped
Beans - 7 Nos
Cauliflower
Green Peas - 1/4 Cup
Few Mint Leaves
Few Coriander Leaves
Water - 2 Cups
For Masala Paste
Kashmiri Red Chili - 3 Nos
Green Chili - 2 Nos
Garlic - 3 Cloves
A Piece of Ginger
Chopped Onion - 2 Tsp
Few Mint Leaves
Few Coriander Leaves
Little Water
#VegetableBiryani #biryani #homecooking #recipes
Method
1. Wash 1 cup (250 ml) of long grain basmati rice and soak it in water for about 15 min.
2. After 15 min, drain the water and keep it aside.
3. For masala paste - add 3 Kashmiri red chili,2 green chilis, 3 cloves of garlic, a piece of ginger, 2 spoons of chopped onions, a few mint & coriander leaves & finally add some required water and grind it to a fine paste.
4. Heat the pressure cooker, add 3 spoons of ghee, few spices like 1 cinnamon, 3 cardamom pods, 1-star anise, a piece of mace, few cloves, 1 bay leaf, a small piece of stone flower(optional).
5. Now add 2 finely chopped onions, sort the onions till it turns to nice golden colour and add the ground masala paste. Cook until the raw smell vaporizes.
6. Add 2 spoon of oil, only if the gravy is dry.
7. Add 2 numbers of chopped tomatoes and cook until it mashes.
8. Masalas to be added – ¼ tsp of turmeric powder, salt as required and add ¼ cup of thickening curd.
9. Veggies to be chopped and added – 1 large potato, 1 carrot, 7 beans, 1 bowl of cauliflower and ¼ cup fresh peas. Mix & cook the ingredient for about 5 min.
10. For flavor add some mint and coriander leaves.
11. Finally, add the soaked basmati rice and 2 cups of water for it to cook. (add salt as needed)
12. Now pressure cook the biriyani for 2 whistles in medium heat.
13. Turn off the stove and let the pressure cooker for about 15 min.
14. You can now serve the delicious veg biriyani with your choice of raita or onion salad. HAPPY FOODING!!!!
You can buy our book and classes on
http://www.21frames.in/shop
HAPPY COOKING WITH HOMECOOKING
ENJOY OUR RECIPES
WEBSITE:
http://www.21frames.in/homecooking
FACEBOOK -
https://www.facebook.com/HomeCookingShow
YOUTUBE:
https://www.youtube.com/user/VentunoHomeCooking
INSTAGRAM -
https://www.instagram.com/homecookingshow
A Ventuno Production :
http://www.ventunotech.com