4 years ago
Home Cooking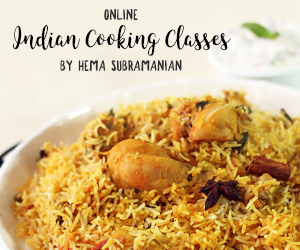 4 years ago
|
Home Cooking
DESCRIPTION
Vegetable Paniyaram
Ingredients
Appam / Dosa Batter
Gram Dal - 1 tsp
Urad Dal - 1 tsp
Mustard- 1/2 tsp
Cumin - 1/2 tsp
Asafoetida Powder - 1/4 tsp
Onion - 1/2 cup(chopped)
Green Chili - 2 nos(chopped)
Ginger - 1 piece(chopped)
Beans - 1/2 cup(chopped)
Carrot - 1 nos(grated)
Curry Leaves
Coriander Leaves(chopped)
Salt
Oil
Green Gram Paniyaram Recipe:
https://goo.gl/d1NcbF
Banana Paniyaram Recipe:
https://goo.gl/Xdq4bJ
You can buy our book and classes on
http://www.21frames.in/shop
Method
1. Heat a pan with some oil and add split gram dal, urad dal, mustard seeds, cumin seeds and asafoetida
2. After the mustard seeds crackle, add onions, green chilies, ginger
3. Saute it for about 2 minutes
4. Add finely chopped beans and carrots and Curry leaves and coriander leaves
5. Saute it till they become soft
6. Season it with some salt and mix it well. Turn off the stove and keep this aside
7. Take some appam or dosa batter in a bowl and add the cooked mixed vegetable mixture into it
8. Heat the paniyaram skillet and pour some oil into the moulds
9. After the paniyaram skillet is heated, add the paniyaram batter into the moulds
10. Cook it evenly on both sides till you get a golden brown color on the outside
11. Vegetable paniyaram is ready to be served hot with some chutney or sambar.
HAPPY COOKING WITH HOMECOOKING
ENJOY OUR RECIPES
WEBSITE:
http://www.21frames.in/homecooking
FACEBOOK -
https://www.facebook.com/HomeCookingShow
YOUTUBE:
https://www.youtube.com/user/VentunoHomeCooking
INSTAGRAM -
https://www.instagram.com/homecookingshow
A Ventuno Production :
http://www.ventunotech.com