3 years ago
Home Cooking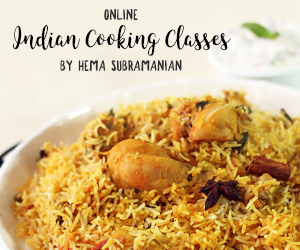 3 years ago
|
Home Cooking
DESCRIPTION
Avarakkai Poriyal
Ingredients
Oil
Mustard seeds
Urad Dal
Cumin seeds
Red Chili - 1 no
Chopped Onion - 1 no
Green Chili - 2 no
Curry leaves
Broad Bean - 250 gms
Broad Bean Seeds
Turmeric powder - 1/4 tsp
Salt - 1/2 tsp
Grated Coconut
Method:
1.Take a wide kadai, add a little Oil and temper with Mustard seeds, Urad Dal & Cumin seeds.
2.Once it starts splattering, add 1 Red Chili, 1 med sized chopped Onion, 2 slit Green Chili, few Curry leaves and saute it well.
3.Once onions are transparent, add 250 gms of Broad Bean and few broad bean seeds(optional).
4.Season it with 1/4 tsp of Turmeric powder, 1/2 tsp of Salt and give it a quick mix with required water.
5.Keep the flame on medium and close and cook till vegetables are cooked.
6.Garnish it with fresh grated Coconut.
South Indian style Avarakkai Poriyal is ready to serve.
WEBSITE:
http://www.21frames.in/homecooking
FACEBOOK -
https://www.facebook.com/HomeCookingShow
INSTAGRAM -
https://www.instagram.com/homecookingshow/
TWITTER -
https://twitter.com/VentunoCooking
A Ventuno Production :
http://www.ventunotech.com