6 years ago
Home Cooking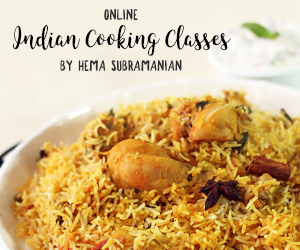 Ginger Pachadi (Allam Pachadi - Andhra style)
6 years ago
|
Home Cooking
DESCRIPTION
Ginger Pachadi (Allam Pachadi - Andhra style)
Ingredients
Oil - 1 tbsp
A large piece of Ginger
Red Chilli - 6 nos
Coriander seeds - 3 tbsp
Urad Dal - 2 tbsp
Cumin seeds - 1 tbsp
A few Curry leaves
Salt to taste
Soaked Tamarind - 1 tbsp
Jaggery - 1/2 tbsp
Water
For Tempering
Oil - 1 tsp
Urad Dal - 1/4 tsp
Cumin seeds - 1/4 tsp
Mustard seeds - 1/4 tsp
Red chilli - 1 no
A few Curry leaves
Asafoetida powder - 1/2 tsp
Method:
Step 1: Roasting the ingredients
Heat Oil in a sauce pan
A large piece of Ginger cut into julienne & roast till the raw smell goes off
Roast 6 Red chillies
Roast 3 tbsp of Coriander seeds
Roast 2 tbsp of Urad Dal
Roast 1 tbsp of Cumin Seeds
And finally roast a few Curry leaves
Let the mixture Cools down.
Step 2: grind the roasted ingredients with salt
Then add 1 tbsp of soaked Tamarind & 1/2 tbsp Jaggery
Add few tsp of water & grind till you get the mushy consistency.
Step 3: Tempering
Heat Oil & add Urad Dal, Cumin seeds, Mustard seeds, 1 no Red chilli, a few Curry leaves, 1/2 tsp Asafoetida powder & roast it.
Now transfer it to the Ginger chutney & mix well.
Your ginger chutney is ready now.
Like us on
http://facebook.com/HomeCookingShow
Follow us on
http://twitter.com/VentunoCooking
Subscribe to
http://youtube.com/user/