6 years ago
Home Cooking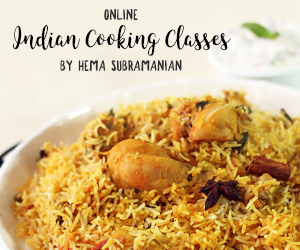 Hyderabadi Bagara Baingan
6 years ago
|
Home Cooking
DESCRIPTION
Prep time: 15 minutes
Cook time: 30 minutes
Number of servings: 2-3 persons

Ingredients


Oil - 2 Tbsp
Brinjal - 8 nos
Gingelly Oil - 2 Tbsp
Mustard seeds - 1/2 tsp
Cumin seeds - 1/2 tsp
Few Curry leaves
Ginger garlic paste - 2 tsp
Turmeric powder - 1/4 tsp
Kashmiri Chili powder - 1 1/2 tsp
Coriander powder - 2 tsp
Salt to taste
Water
Tamarind puree - 1/4 cup
Garnish it with Chopped Green chili & Coriander leaves
Roasted Peanuts - 2 Tbsp
Sesame seeds - 2 Tbsp
Poppy seeds - 1 tsp
Grated Coconut - 3 Tbsp
Oil - 1 Tbsp
Onion - 3 nos chopped finely


Method

1. Dry roast peanuts, sesame seeds, poppy seeds and grated coconut. Grind to paste.



2. Cut baingan (brinjals) in half and then quarter.



3. Add oil and brinjals in a saucepan, cook till the brinjal is half cooked. And keep it aside.



4. Take the same pan, add oil and onion saute well it turns golden brown. Turn off the stove, let the onion cool. And grind it into a fine paste.



5. Grind onion into a fine paste.



7. Take a wide sauce, add ginger oil, mustard seeds, cumin seeds, curry leaves, ginger garlic paste saute well.



8. Once the raw smell goes off, add onion paste, peanut and sesame paste, turmeric powder, Kashmiri chilly powder, coriander powder, salt , brinjal , tamarind puree and a little water, close the lid and let it cook for 15 minutes to 20 minutes.



Hyderabadi Bagara Baingan is ready to be served.